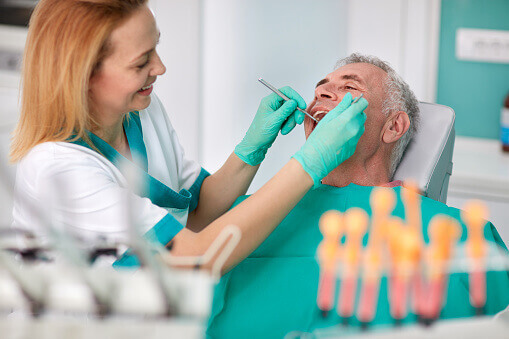 Call In-House Dental Care now to set up an appointment with a home care dentist in Culver City. When Dr. Richard A. Nguyen saw his own aging father struggling to find quality care that could see him in his home, he knew something had to change. There was a large hole in house call dentist services in Southern California and he knew it needed to be filled. Once he decided to expand his general dentistry practice to include mobile dentistry for geriatric and homebound patients, he knew he could provide the home dental care that aging patients sorely needed.
Home Dental Care Designed for Your Needs
For patients in assisted living facilities, nursing homes, or hospice care, it can be virtually impossible to maintain routine dental care. Organizing appointments outside the home may not be possible due to disability or degenerative disorder, which means oral health can go by the wayside. For many patients of advanced age, this could mean dealing with gum disease, discomfort, pain, or broken teeth. A house call dentist solves this issue by bringing the latest in dental technology directly to a patient's door, giving them access to routine teeth cleaning as well as procedures like fillings, extractions, crowns, or dentures. Dr. Nguyen acts as a mobile home care dentist serving Culver City and other cities in and around Los Angeles County because he believes everyone should have access to quality care. By allowing patients to stay in place and receive their dental cleanings in an environment where they feel most comfortable, stress is significantly lower and everyone feels better about the procedure. Ultimately, this is about improving quality of life and maintaining good oral health. Gum disease and heart disease are directly linked according to numerous scientific studies, and for older patients, it becomes even more important to make sure that link is respected.
Please don't hesitate to call on In-House Dental Care if you need a home care dentist in Culver City. You can reach us via our online form or by calling 949-339-5373.