Why trust Dr. Richard Nguyen when you need a home care dentist in Los Angeles? Dr. Nguyen is an experienced senior dentist who has worked with patients with Parkinson's Disease, Alzheimer's Disease, dementia, and other physical and cognitive ailments. He is currently a member of the National Aging in Place Council, Alzheimer's Association, American Dental Association, and California Dental Association. He received his DMD from Temple University School of Dentistry in 1998, but it wasn't until he was looking for an in-home dental service for is elderly father that he realized the lack of services for the home bound population. Dr. Nguyen formed In-House Dental Care so the aging people of Southern California have access to house call dentistry when they need it.
In-Home Dentist for Los Angeles Patients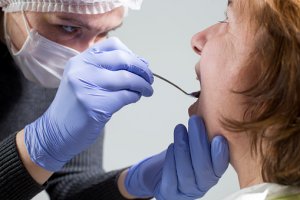 Oral health is an important key to overall health. Tooth decay can seriously damage the ability to chew normally and live pain-free. There's also a strong link between gum disease and heart disease. Protect your elderly loved one against these concerns by making sure they have regular appointments with a qualified dentist. If they can't access a traditional dental office, our service can plan a home dentist visit. We travel throughout the area to bring our services to the aging and home bound population. As a home care dentist in Los Angeles, we can perform the same services with the same standard of care as a traditional dentist. We offer a range of services including: X-rays, cleanings, cavity fillings, teeth extractions, crowns, and dentures.
For more information about our home care dentist service in Los Angeles, call us at (949) 339-5373 or email us at info@inhousedentalcare.com. We would be happy to walk you through the process. We can even set up the appointment and take payment over the phone, so you don't have to be present at the appointment.