Are you looking for a home care dentist in Monterey Park for an elderly relative? As people grow older, it can be harder and harder to leave the house, making it difficult to go to a regular dental office. For those that can no longer travel to a traditional dentist, there are options available. When Dr. Richard Nguyen needed a house call dental care for his own ailing father, he struggled to find adequate providers. So he opened up In-House Dental Care so other relatives and caregivers wouldn't face the same struggle. He now brings quality, mobile dental care to patients throughout Southern California.
A Senior Dentist for Southern California Residents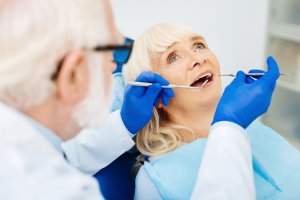 If your elderly loved one is homebound, they can still get great house call dental care. In-House Dental Care brings the entire team – a senior dentist, two dental assistants, and an administrator – to every home dentist visit to ensure it goes smoothly. We work wherever the patient is most comfortable, usually while they are laying down in bed. We bring our cutting-edge equipment and a portable ramp so we can come up a few stairs to treat the patient. If the patient is up a flight of stairs and cannot be moved, we have a smaller portable kit that can be carried upstairs. We can bring the same standard of dental care as a traditional dental office, right in the comfort and convenience of your home! This includes X-rays, cleanings, polishings, cavity fillings, teeth extractions, crowns, and denture work. Simply because a patient cannot travel, that doesn't mean their oral health needs to suffer. There are strong links between gum disease and heart disease. Protect your loved ones with regular visits from a home care dentist to your Monterey Park home.
If your loved one is in pain, please call us immediately. Everyone deserves quality dental care and we want to make sure your loved one isn't in pain. We are a home care dentist service for Monterey Park and beyond. Call us today at (949) 339-5373 to schedule an appointment.