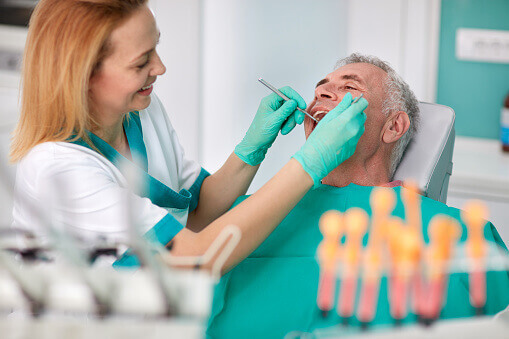 Does your loved one need a mobile dentist in Playa Del Rey? Many elderly and infirm people can no longer access a dentist in a traditional setting, but where do you find a reliable geriatric home dentist to help your loved one? Contact In-House Dental Care of course! Our mobile dentistry unit proudly serves the homebound population in Los Angeles and all over Southern California.
Your Source For In Home Dental Care
In-House Dental Care offers the same top quality care you would expect from a conventional dental office, with the benefit of mobility and flexibility. We can take our sophisticated dental equipment anywhere; we even have a portable ramp that allows us to go up a couple of stairs. If needed, we can carry a mini backup dental unit up a flight of stairs to help patients wherever they are. We regularly assist patients laying down in bed, sitting in wheelchairs, or relaxing on the couch or on a recliner. Making our patients comfortable is the advantage of in home dental care. Our dental equipment is top of the line technology that brings the benefits of high quality dental care to the comfort of your home. We take infection control very seriously and ensure that our tools are properly taken care of. Our instruments are sterilized and prepared at our main office in Huntington Beach. For state of the art equipment and top notch care, rely on In-House Dental Care as your mobile dentist in Playa Del Rey.
If you have been looking for a mobile dentist in Playa Del Rey to assist your loved one, don't delay. Your loved one deserves top quality dental care. Call In-House Dental Care at (949) 339-5373. An experienced geriatric home dentist will come to your loved one, whether they are in a private residence, nursing facility, or in hospice.