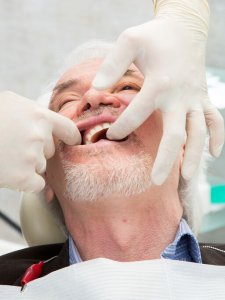 Are you searching for in home dental care in San Juan Capistrano? Look no further than the reliable and professional services offered by In-House Dental Care. Our founder, Dr. Richard Nguyen realized the lack of in home dental care when he tried to find dental options for his elderly father. At that point, after researching and finding a total gap in the availability, Dr. Nguyen decided to focus on the aging and homebound population.
Your Trustworthy Senior Dentist
Our business focuses entirely on helping these people who cannot travel to a traditional dental facility, and our team, including Dr. Nguyen and talented dental assistants, show great compassion and care when working with patients who are physically ill or incapacitated due to age and disease. In-House Dental Care brings essential dental services to homebound patients, relieving their loved ones of the stress of attempting to travel or find a dentist that will make a home visit.
In-House Dental Care offers:
Cleanings
Fillings
Crowns
Extractions
Dentures
We are mobile and can travel to a personal residence, nursing home, assisted living facility, long term care community, or wherever the patient is, including hospice patients. Our mobile equipment is the latest in dental technology and allows us to provide the same dental services and quality of work you would receive in a traditional office setting, letting us bring the best of in home dental care straight to your San Juan Capistrano home. Most importantly, we provide high quality in home dental care, while always treating our patients with respect and taking care to ensure they are comfortable.
In-House Dental Care is dedicated to providing the elderly and physically impaired populace with quality dental care in the comfort of their own home. When you need a devoted senior dentist and dental team for in home dental care in San Juan Capistrano, contact us by dialing (949) 339-5373 to schedule an appointment.