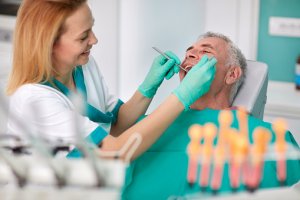 Where can you find an in home dentist in Newport Beach? Luckily, with mobile dentistry, you can find a dentist who will come to you. Dr. Richard Nguyen saw the lack of proper mobile dental care in Southern California, so he decided to do something about it. He expanded his practice to include mobile services, and he now operates as a senior dentist making house calls in Los Angeles, Orange, Riverside, and San Diego counties. Many elderly patients are homebound due to physical disability or cognitive disorders like Alzheimer's Disease and dementia, and their dental health can suffer as a result. With In-House Dental Care, it doesn't have to.
Gum health has been linked to heart health in multiple studies, which means it's always important to care for your teeth and gums with regular cleanings and dental care to ensure your overall health doesn't suffer. As we age, this becomes even more important, but many seniors are unable to keep up with regular dental care due to other health concerns or advanced age. In cases like this, finding an in home dentist that serves Newport Beach is essential, and Dr. Nguyen is just such a dentist. After witnessing his aging father having trouble obtaining proper care, Dr. Nguyen saw the need for a mobile senior dentist in Southern California and began his mobile practice. Now Dr. Nguyen and his team serve geriatric and homebound patients throughout the area, visiting them in the comfort of their own home for cleanings, fillings, denture fittings, extractions, crowns, and more. All procedures are performed using state of the art dental technology and can be performed in residential homes, assisted living facilities, nursing homes, hospice care, or elsewhere.
Proper dental care is too important to skip, especially for those who may be living with advanced tooth wear and tear. We're always more than happy to answer any questions or concerns, and our patients can find more information online. Our new patient forms are available for download, so don't hesitate to call and set up an appointment with our in home dentist today. We'll come to you anywhere in Newport Beach!