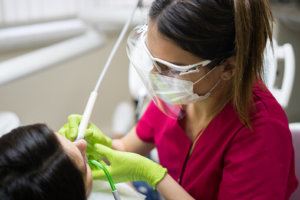 If you have been having trouble finding a house call dentist near Orange County, then look no further than In-House Dental Care! We are a mobile dentistry service with a team of highly trained professionals that can provide you with the same dentistry services as a traditional dentist, all in the comfort of a patient's own home.
Home Care Dentistry You Can Trust
Many who search "house call dentist near me", will find that we are at the top of the list, and that is no accident. In-House Dental Care was started by the highly regarded dentist Dr. Richard Nguyen after he experienced how difficult it was to get quality dental care for his homebound father, who was 84 at the time. He researched the issue, and before long he realized just how great the need for a skilled house call dentist really was. He spoke to his sister, a geriatric physician, and after discovering that he could in fact serve as a geriatric dentist, began to serve geriatric patients who had difficulty leaving their home or hospice. Dr. Nguyen provides a variety of services, from traditional fillings and teeth cleanings, all the way to more complicated procedures like denture adjustments and or crowns. He can do it all with unmatched skill, care, and compassion. His bedside demeanor is why so many caregivers rely on him as their go-to house call dentist in Orange County.
If you have a loved one who is in need of quality dental services, but is unable to leave their home or hospice, there's no need to search endlessly online for "house call dentist near me". Contact our team of professionals immediately! You can fill out one of our online forms or give us a call at (949) 339-5373, we will be happy to share our expertise and answer any questions or concerns that you may have. Be sure to get the best house call dentist in Orange County to provide your loved one with the dental care that they deserve by scheduling an appointment as soon as possible.