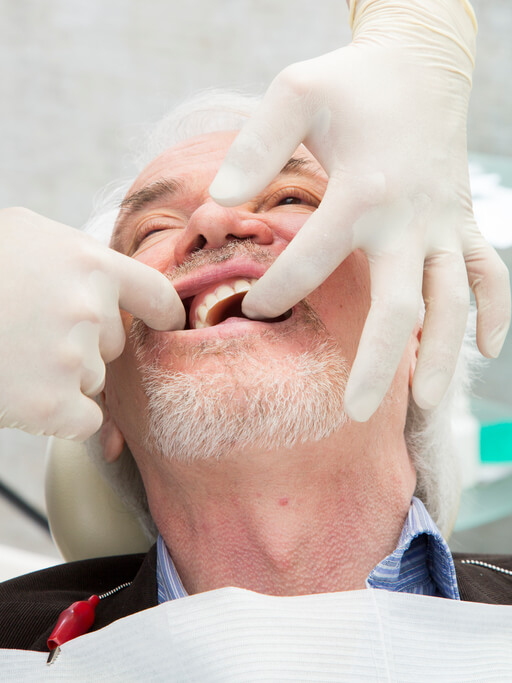 Finding an experienced mobile dentist serving Dana Point can be a challenge, but you've already taken the first step toward finding a geriatric dentist whose practice comes directly to your door. Dr. Richard Nguyen noted that his own aging father was having difficulty maintaining proper health and dental care, and that observation became the drive to ensure Southern California patients had access to in home dental care. Since that time, his practice has grown and now serves Los Angeles, Riverside, Orange, and San Diego counties.
There are many benefits to having a mobile dentist come to your Dana Point home or assisted living facility. Maintaining routine dental care can be very difficult for patients with physical or cognitive disabilities, many of which worsen with age. However, dental health never becomes less important — in fact, with gum disease tied so closely to heart disease, seeing a geriatric dentist is vital to maintaining good health. Even so, patients living with dementia, Parkinson's Disease, or Alzheimer's Disease may find leaving home for an office visit to be stressful or agitating.
Mobile Dentist To Your Dana Point Home
Rather than take a complicated journey to the office, Dr. Nguyen's practice brings the office to you. We bring state of the art dental equipment directly to your door and set up inside your home, allowing our patients to relax and receive the care they need without undue stress. Dr. Nguyen performs a wide variety of dental procedures, including cleanings, fillings, extractions, crowns, denture fittings, and more. Regardless of the extent of work needed, we'll take good care of you.
If you need a mobile dentist to visit your Dana Point home, hospice, or assisted living facility, please call today or set up an appointment using our online form. We also have new patient forms available online to save time on paperwork. If you have questions, we're happy to answer!