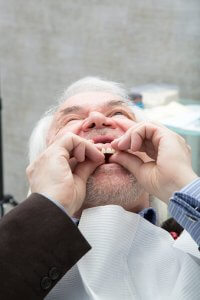 If you're seeking an experienced mobile dentist in Yorba Linda, you've come to the right place. For years, Dr. Richard Nguyen has been proudly serving Southern California as an in home dentist for elderly and homebound patients who can't make it into the office for routine dental work or cleanings. He first noticed the great need for mobile dentistry when he observed his own aging father having trouble accessing proper health and dental care. After some research into the local aging and homebound population, Dr. Nguyen knew that he could be the person to offer this vital service. With years of dedication and experience as a geriatric dentist, he's the perfect person for the job.
Our practice brings state of the art dental equipment right to your door so we can set up in your home and perform all necessary cleanings and dental work right there. We serve patients in residential homes, assisted living facilities, hospice care, nursing homes, and more. Dr. Nguyen acts as a mobile dentist for Yorba Linda as well as cities throughout Los Angeles, Orange, Riverside, and San Diego counties.
Many of our patients are elderly or homebound, living with diseases like Alzheimer's or Parkinson's that make it especially difficult to make and keep office visits. An in home dentist ensures these people can access proper care without having to leave the comfort of their own home. This prevents a great deal of stress for both the patients and their caretakers. We're able to perform cleanings, fillings, crowns, extractions, and more right on site. With patients of advanced age or with other health issues, proper dental care is an absolute must both for their comfort and their health. With studies strongly linking gum disease to heart disease, one can never be to cavalier with dental problems.
If you need a mobile dentist to visit your Yorba Linda home, hospice, or assisted living facility, please call today or set up an appointment using our online form. We also have new patient forms available online to save time on paperwork. If you have questions, we're happy to answer!