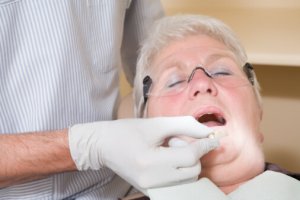 If you or a loved one is searching for a mobile dentist in Rialto, you've found him. Dr. Nguyen has developed his practice to bring high quality dental care to elderly and home bound patients. When you can't come to the office, the office comes to you! The state of the art dental equipment of the in home dentist is portable and brings the patient the same level of care they would receive at a traditional office.
Your In House Senior Dentist
Dental issues can often cause more health issues, which can become more serious in an older patient. When these patients are unable to leave their homes or have illnesses which preclude them from doing so, these problems go untreated. As a mobile dentist serving Rialto, Dr. Nguyen ensures the gum and tooth health of your loved one. Services include:
A portable x-ray machine even allows for a full exam – just like in the office!
Many elderly people are unable to leave their homes due to mobility or illness issues. Dr. Nguyen is an in house senior dentist who specializes in geriatric patients in their own homes. Patients can remain on their beds but can also undergo the examination while they are in a recliner, couch, or wheelchair. Patient comfort is a high priority, which is why he has developed his practice to cater to homebound people. An in home dentist can reduce the stress and anxiety of an elderly patient, especially one suffering from dementia or Alzheimer's.
To learn more about our services or to find out if we are available in your area, please contact us at (949) 339-5373 or info@inhousedentalcare.com ! One visit and you'll see why finding a mobile dentist in Rialto can benefit you or a loved one with better oral health.