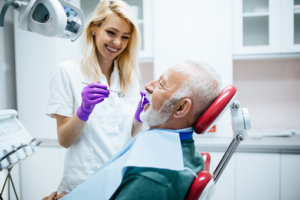 If you're looking for a mobile dentist for seniors in San Bernardino County, In-House Dental Care can help. Our dentist, Dr. Richard Nguyen, is a highly regarded geriatric dentist who graduated from Temple University in 1998. Working with his staff of skilled dental assistants and associates, he is a mobile dentist for elderly patients who are bedbound or otherwise unable to visit a standard dentist's office. Many geriatric patients are unable to make their dental health a priority. With Alzheimer's disease or other cognitive impairments, they have unique needs in a care setting. Dr. Nguyen understands these needs. Moreover, he'll visit your loved one in their assisted living center or home. His equipment is portable, right down to the X-ray machines that he uses, ensuring that he'll be able to reach and treat your loved one, no matter where they're living.
Dental health can impact one's overall quality of life. Cavities, abscessed teeth, and gum disease are not only painful–they can impair your health on the whole. A mobile dentist for elderly patients is useful in evaluating and treating problems that can change your smile or even your cardiac condition. Dr. Nguyen was first inspired to become a mobile dentist for seniors in San Bernardino County when he realized his own elderly father's dental health was suffering. His careful research into this field and his years of experience mean that he can bring your family member empathetic and prompt treatment for any dental problem they're facing. He's even a member of the National Aging in Place Council and the Alzheimer's Association.
Dental care is a vital service for all citizens. Why leave our most vulnerable populations without treatment? With our mobile dentist for seniors in San Bernardino County, you can rest assured that your beloved family member is addressing all aspects of this key component of their health.