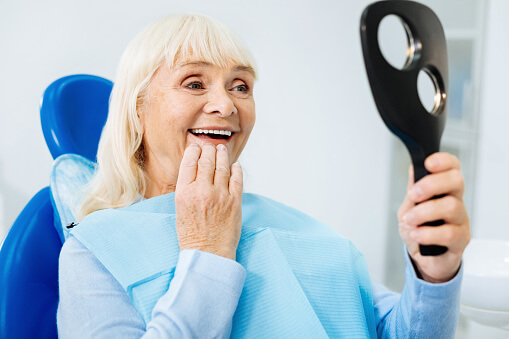 When you need a mobile dentist in Riverside County CA for your elderly loved one, contact the expert. Dr. Richard Nguyen is a respected geriatric dentist with experience working with patients with Alzheimer's Disease, Parkinson's Disease, dementia, and other physical and cognitive impairments. He has a compassionate and professional bedside manner that extends to all patients. After struggling to find mobile dentistry services for his elderly father, he founded In-House Dental Care so the aging and homebound population could receive top notch dental care. Everyone at In-House Dental Care is committed to treating each patient with the dignity they deserve. Our care starts from when we schedule an appointment to any follow-up care needed.
The Benefits of our Dental Care
In-House Dental Care is proud to offer mobile dentist services to Riverside County CA. Our excellent staff is key to that mission, as is our cutting edge equipment. Our mobile equipment allows us to travel to nursing facilities, elderly care homes, private residences, and even hospice. This state of the art equipment gives us the flexibility to travel to wherever the patient is, while providing the same quality of care that you would expect in a traditional dental office. Since Dr. Nguyen is a geriatric dentist and primarily serves elderly patients, this mobile equipment means seniors can relax in bed, the couch, a recliner, or wheelchair while he performs cleanings, extractions, cavity fillings, crowns, and denture work. Our equipment can be taken up a few stairs with our portable ramp, or we have a smaller kit that can be carried up a flight of stairs if needed. Wherever the patient is, In-House Dental Care can help.
Call In-House Dental Care today for a reliable and compassionate mobile dentist in Riverside County CA. Our phone number is (949) 339-5373. We would be happy to set up an appointment at your convenience.